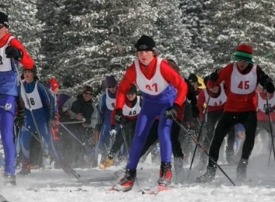 FUNDRAISER EVENT
FOR
MAMMOTH JUNIOR NORDIC TEAMS
WELCOME TO ALL SKIERS:  NORDIC & ALPINE, JUNIOR TEAMS, GLIDERS, AVALANCHE KIDS, SCHOOL KIDS, PARENTS, MASTERS, CITIZEN RACERS!!!
The Tannenbaum Classic 10K has been changed to a shorter classic race that will be a fundraiser for the Junior Nordic Teams. The race will take place on the Minaret Mile, located on tracks set on Minaret Road between Mammoth Mountain Inn and Minaret Summit. The start/finish will be staged about 400 yards up the road from the end of the Mammoth Mountain Inn parking lot, just past the turn-off for the road to the bottom of Chair 12. The course runs out to and back from the Forest Service hut near Minaret Summit (approximately 1.5K each way). Adults will classic ski 2 laps (approximately 6K), juniors (HS & MS) will classic ski 1 lap (approximately 3K) and kids (K-6) will classic ski along the flat at the start.
ALLOW PLENTY OF TIME TO GET TO THE START!!!!
Rental equipment will be available at Tamarack XC Ski Center between 7:30 and 9:00 am Sunday morning. Ueli Luthi will collect the rental equipment after the race at the Slopeside Center located between the bottom of Chair 11 and Chair 1 just past Main Lodge.
Registration will take place at the Slopeside Center from 7:30 – 9:30 Sunday morning.
Adults race will start at 10:00, Juniors will start at 10:10, and Kids will start immediately after all other racers finish. That way, we can all cheer them on!!!!!
There are no aid stations on the course, so please bring your own water, etc.
There will be NO parking in the Mammoth Mountain Inn parking area. All vehicles must be parked in the normal parking area for the ski area.
Awards will be distributed at 1:00 pm at Skadi Restaurant off of Old Mammoth Road. You can either come just for the awards, or continue fundraising by joining us for a delicious pasta/salad dessert luncheon, $15/adult and $5/youth, proceeds go to the Junior Nordic teams.
Thank you in advance to everyone in for supporting our Mammoth Nordic Junior teams in this wonderful & FUN event!!!!!