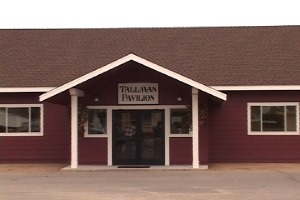 A new, modern building of 4600 square feet with a state of the art kitchen – the Tallman Pavilion, as it's called, stands ready at the Tri-County Fairgrounds for conferences, conventions and meetings plus accommodations for the RV parks.
Fair Manager Jim Tatum and others organized an open house last Thursday to reveal the new building to the community. State funds and local money made it happen. Tatum called the pavilion "new and unique with a gorgeous kitchen." 1,000 square feet of the large building is dedicated to restrooms and showers on the south side of the building to accommodate RV park people and occupants of the building.
Ducks Unlimited were the first to rent the building last Friday. Tatum said the plan is to market the facility, which will hold up to 200 people, for upscale events. Said Tatum, "We will be selective. The facility can serve dinner for up to 150 people. It will really meet a need," he said. "There is a lot of demand for a commercially approved kitchen."
Half way through the construction of the new facility, state budget money dried up. An additional $200,000 for 2012 was lost. Tatum went to the community to help complete the already half-way finished building. He said Roxanne Tallman of Hidden Creek Ranch offered $100,000. A couple from Texas, James and Lisa Ferguson, had spent their honeymoon at Mule Days and have returned frequently. They donated another $15,000 in honor of James' mother who recently passed away.
Tatum said the Fairgrounds made some building changes and used some reserve funds to make up the rest of the state money loss. The Fairgrounds will market the Tallman Pavilion with special mid-week rates and other good deals. Tatum said, "The big difference in this building is that it is energy efficient – lots of insulation, energy efficient design, central heat and efficient coolers."