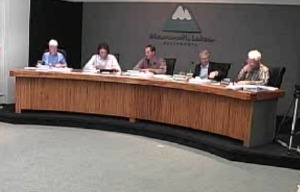 At their regular meeting on November 7th, the Mammoth Town Council will start to deliberate on the proposed restructuring plan of town government, including some 13 job cuts. Seven of those are in the police department. However, there will be no cuts there until next July 1st.
Tonight, the Council scheduled a special meeting at 5:30pm. The only item on the agenda is a closed session. In it, according to the agenda, the Council will confer with Town Manager Dave Wilbrecht about labor negotiations with several employee groups – the associations of the general employees, management employees, police officers, public works employees, and unrepresented employees such as the town manager, assistant town manager, police chief, and others.
The specific details of these negotiations are not know, but Assistant Town Manager Marianna Marysheva-Martinez did confirm that the purpose of the closed session is to "discuss employee association negotiations related to the restructuring plan." The Town Council now considers proposals that would combine jobs in public works and road maintenance, shift other jobs to managers and cut other positions, including seven police officers.
When the Council met more than a week ago, citizens stood up against the closure of Whitmore Pool in the new restructuring plan. Some supported new taxes to help pay off the $29.5 million lawsuit debt. Former Councilman Kirk Stapp called for a lift ticket tax since he believes Mammoth Mountain is partially responsible for the lawsuit judgment.
Still others supported Mammoth Lakes Housing and opposed cuts there. The idea of allowing more single family homes to rent out to transients has received mixed reviews. The idea here is to raise more transient occupancy tax.
Citizens so far also seem divided over whether or not the Town should use money from Measures A, A, T, R, and U to pay for services other than those specified when the measures were passed.