Press release
It's time to take another sentimental trip down memory lane, also known as El Camino Sierra.
 On Saturday June 8, the Eastern California Museum in Independence will be hosting a history program titled, "A Sentimental Journey Along Highway 395," presented by authors David and Gayle Woodruff. In addition to relating interesting and little-remembered stories about the people and places along US 395, the Woodruffs will also be introducing their new book, "Tales Along El Camino Sierra, Two!" This volume is a sequel to their popular "El Camino" Eastern Sierra history book. As such, it also contains an interesting selection of the region's historical gems, and plenty of photos.
The Woodruffs have lived, worked and vacationed in the Eastern Sierra for over 50 years. They have compiled historical photographs and documents through extensive research, using a variety of educational and informational resources (including the Eastern California Museum) to publish their 6th book on Eastern California history.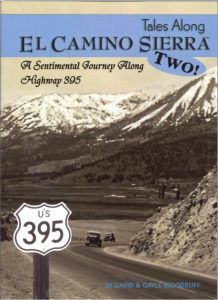 El Camino Sierra was the name first given to the original Highway 395 in Inyo and Mono counties.  In 1910, intent on getting their share of the first state highway construction bond measure, members of the Inyo Good Road Club coined the name El Camino Sierra as a marketing tool to help draw the attention of the state decision makers in Sacramento, to this lightly populated area of the state.  Their tireless and effective promotional efforts even brought the first sitting governor of the State of California to the land of Inyo and Mono.
"Highway 395 — this magical ribbon of blacktop — has been taking people on a sentimental journey for over 100 years. Rarely does a roadway invoke such nostalgic memories as 'The Mountain Highway,'" noted author David Woodruff. "Our new book on this unique thoroughfare, 'Tales Along El Camino Sierra, Two!,' includes 43 new tales of engaging and often amusing narratives of the human history that has unfolded along this special roadway over the years," he added.
In the presentation, the Woodruffs will take a sentimental look at the people and places that have helped shape this region into more than just a vacation wonderland. "The Eastern Sierra has also become a blissful state of mind and storehouse of memories that continues to inspire and galvanize people throughout their daily lives," noted David Woodruff.
The history program and book-signing event will be held on Saturday June 8 at the Eastern California Museum, 155 N. Grant Street, Independence from 2 p.m. to 4 p.m.  In addition to the book signing, the Woodruff will have on display ephemera, photos and memorabilia from their impressive personal collection. Light refreshments will also be served. For more information, you call 760 878-0258.