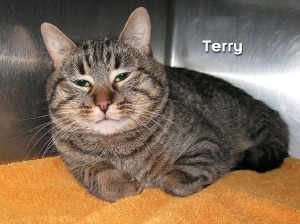 PETS of the WEEK – December 19, 2012

TERRY
 is a handsome gray tabby who has been living in a stainless steel cat cage for over 5 months (since July 11!). He is a terrific boy who promises to be your faithful feline companion. Good news! Cats and kittens are just $10 through December
31st thanks to ICARE's Cat Adoption Promotion, which pays the adopter's $40 spay/neuter deposit.
SHAYLA is an 18-month old Border Collie mix who was turned over to the Animal Shelter with her five puppies. She 

has a lovely temperament and is gentle, patient and kind. Her pups have all found homes. Now i
t's 

SHAYLA's turn to be pampered!
The Inyo County Animal Shelter has an amazing selection of adorable cats and lovable dogs. Please adopt one today. Visit in person on County Road in Big Pine or on-line at
www.ICAREforPets.org
. HOURS: Tuesday thru Friday, 10 am to 3 pm, Saturday and Sunday 11 am to 4 pm (closed Mondays). Phone 760-938-2715. 
Photos by Lisa Schade of ICARE