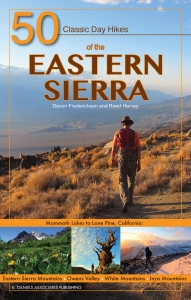 Fort Independence Travel Plaza to host book signing of new Eastern Sierra Hiking Book
Fort Independence-Former Owens Valley residents Devon Fredericksen and Reed Harvey will visit the Fort Independence Travel Plaza this Friday July 5th from 2 pm to 3 pm, to attend a signing of their new book 50 Classic Day Hikes of the Eastern Sierra.
The book features both well known and little known hikes in the Eastern Sierra Nevada, White and Inyo Mountains.  The hikes have been well researched and the information put together in a very readable format.  The full color book provides numerous great photographs of this beautiful landscape.
Devon and Reed have traveled the world in search of adventure.  From hiking to rock climbing-tour cycling to kayaking,  they have combined their knowledge and skills to put together a hiking guide that even the most experienced outdoor recreationist will enjoy and find useful.
Come and meet Devon and Reed at the Fort Independence Travel Plaza from 2PM to 3PM on Friday July 5.  They'll be happy to answer your questions and look forward to meeting people who share their passion for enjoying this beloved land.  Their book  will be available for purchase and light refreshments will be served.  For more information you can call David at (760) 920-8061.