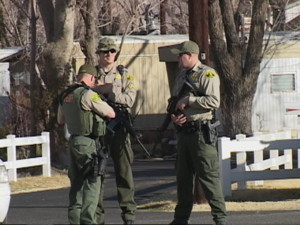 It all started as a domestic problem and then a reported overdose, but an incident at Shady Rest Trailer Park in Bishop turned into a day-long stand-off with a man in a mobile home who had threatened to shoot police.  The Special Operations Team of local officers got the man out of the house just after 7pm Sunday.
Bishop Police Chief Chris Carter said that police had responded to a domestic dispute call Saturday involving 56-year-old Arnold Patzkowski and his girlfriend. Chief Carter said that Sunday someone called 911 to say the man had overdosed on medications. Officers and an ambulance responded but Tatzkowski yelled out that he had a gun and would shoot police.  He barricaded himself in the motorhome he lives in.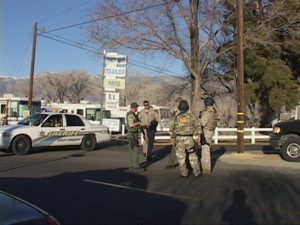 Bishop Police, Inyo Sheriff's Deputies, and Highway Patrol Officers descended on the trailer park.  Residents were evacuated and so were homes on the north side of Yaney St.  As the sun went down, the man had still refused to come out.  SWAT team deputies and officers, armed with AR-15s, stood around the park and had formed a perimeter around the man's home.
He was heard moving around inside but had failed to come out. Reports said it may all have started over a break-up with his girlfriend. The tense situation dragged on. One of the residents, Phil Barfoot, said, "I've lived here about 12 years.  It's not often something like this would happen here.  It's shocking.  I hope we can resolve it in a hurry and get back in our homes."  Mr. Barfoot's 91 year old mother was too ill to evacuate and waited for authorities to bring her out.  Residents of the area were taken to the Bishop Senior Center not far away, helped with medications and medical issues and given vouchers for motel rooms and food.
Manager of Shady Rest, Robin Hansen, said this was an incident very unlike the usually calm residential area.  He said, "Everybody's nervous and upset about this.  It's unfortunate this happened here, but things like this do happen nowadays." Some officers mentioned the Christopher Dorner incident in the Los Angeles area where officers were shot trying to capture the suspect.
Then close to 7pm officers threw what's called a pepper ball into the motor home, giving off a chemical powder.   Patzkowski still didn't come out.  Chief Carter said that a team of officers breached the front door and physically took him into custody.  Reports were confirmed that officers used a less-lethal bean-bag gun on Patzkowski.  Officers did not find a gun.  Patzkowski was transported to Northern Inyo Hospital, and Chief Carter said he would be booked in the Inyo County Jail at some point.