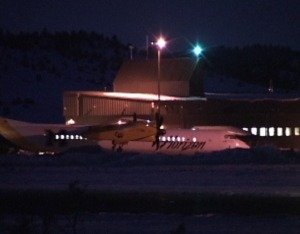 U.S. Geological Survey scientists continue to monitor the Mammoth Lakes area where a swarm of some 500 smaller magnitude quakes have rocked the area around Mammoth Airport. Scientists say the swarm poses no immediate danger. No damage has been reported.  Residents say they have felt the temblors.  Here is what USGS reported:
Earthquake Swarm in Long Valley Caldera not Volcanic in Origin
September 26, 2014
We have been closely tracking an earthquake swarm in California's Long Valley Caldera, which started yesterday at around 4AM PDT (September 25, 2014). The swarm is located 7 miles east of the town of Mammoth Lakes, about a mile north of the airport. From about 4 AM on the September 25th to 11AM on September 26th there have been more than 500 earthquakes of magnitude M1.0 and above, including 8 earthquakes between M3.0 and M3.8, which were felt locally. This is one of several earthquake swarms that have occurred in the caldera this year. Despite the several felt earthquakes, this is still rather modest activity compared with the much more energetic swarms occurring in the 1980s and 1990s. We do not see any evidence for anomalous ground deformation associated with the swarm at this time. Part of the Long Valley Caldera, known as the "resurgent dome," has been uplifting at a rate of about an inch per year since late 2011, and this remains unchanged. Caldera uplift has occurred sporadically for the last few decades. The uplift rate observed since 2011 is small compared to rates observed in the 1980s and 1990s. The earthquakes themselves are small, brittle-failure (rock breaking) events. Such events are sometimes called "tectonic." The earthquakes do not result from the underground movement of magma. We can distinguish between brittle-failure earthquakes and those resulting from magma movement by the characteristics of the seismic waveforms.
The swarm events pose no immediate hazard. The USGS California Volcano Observatory will continue to closely track this activity and provide updates as appropriate.