Press release
A new and exciting event is coming to the Tri-County Fairgrounds in Bishop next month – the South West Council Fly Fishing Faire!  The Faire is slated for Friday, October 16th through Sunday, October 18th and promises something for anglers of all ages and all skill levels.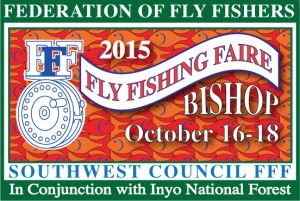 The Southwest Council of The International Federation of Fly Fishers is a non-profit organization that works to promote the sport through education, conservation and fellowship.  The purpose of the Fly Fishing Faire is to bring more awareness to the sport, help people improve their skills, and highlight the Eastern Sierra as a world-class, year-round fly fishing destination.
Fly Fishing Faire highlights include beginning fly fishing classes, fly tying classes, casting instruction, rod building, rigging, on the water outings, vendors, informational displays, clinics and seminars provided by experts from near and far.  There will even be programs designed specifically for kids and ladies.
In addition to fly fishing fun, Faire attendees may enjoy an art or gardening class, photography tour, guided downtown mural walk or take a tour of Laws Railroad Museum.  There will be a special screening of the film "Manzanar Fishing Club" at the Inyo Council for the Arts theater.  For the canine companions, a special rattlesnake avoidance class is also being offered.
Cost to attend the three-day Fly Fishing Faire is only $15 per person or $20 for the entire family.  Many seminars are included with Faire admission, but some instructed classes require anadditional fee.  Boy Scouts and Eastern Sierra Residents get discounted Faire admission.
Online registration is now open and you are encouraged to sign up now; many classes have attendance limits and are expected to sell out.  Check www.bishopvisitor.com, then click on the Fly Fishing Faire box to go directly to the registration page.