BLM and Inyo Sheriff investigators continue to look into what authorities call the "suspicious cause" of a fire that seriously threatened the community of Tecopa and did burndown an out building and slightly damaged the local church.
Saturday evening, Inyo Sheriff Bill Lutze reported a brush fire in high wind threatened structures in the town of Tecopa.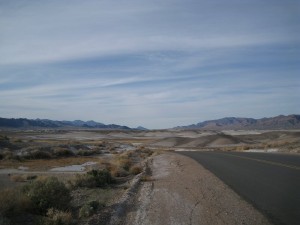 Sheriff Lutze said the fire burned in heavy brush west of Highway 127 and north of the Old Spanish Trail toward Tecopa. On Sunday, things looked better. The fire around the town was virtually out and the blaze continued to burn in the Amargosa River bed. BLM firefighters continued to work on the fire but other units were released. A BLM helicopter out of Barstow continued to work.
About a half dozen residents were evacuated Saturday. Some went to the homes of friends and others to the county building at Tecopa Hot Springs. All but one family, which had problems with water service, returned home. At this time of year, the population of the tiny community amounts to about 75people.
Sheriff Lutze said that the fire did burn down one out building in the town and did some damage to the local church. The back wall caught fire but was put out quickly. The Sheriff called the start of the fire a "suspicious cause" which remained under investigation by BLM and Sheriff deputies.
Extremely high winds during the start of the fire made fighting it dangerous and initially caused the fire to spread rapidly in erratic patterns.