After the strange Town Council meeting last week, Mayor Pro Tem John Eastman re-stated that the "meeting was about a lack of trust." After the meeting, the distrust had deepend. One thing was sharply revealed – the ongoing secret Wildlife Subcommittee meetings had eroded public confidence in the process and in council members.
This week, we hope to speak to Town Attorney Peter Tracy for his interpretation of the Brown Act. As we reported last week, the California First Amendment Coalition attorney indicated that the Wildlife Subcommittee meetings match the Brown Act definition of Standing Committees, which fall under the Brown Act and must be open to the public.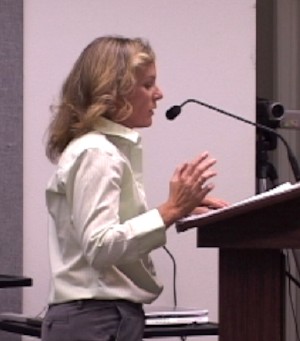 Why were Skip Harvey and Wendi Sugimura so desperate to keep the meetings closed? They named confidentialities and an unruly public as their reasons. Local citizen, Connie Lizza-Moyer, repeated after last week's meeting that she lacks trust in everything that happens with bears and Steve Searles.
Lizza-Moyer said she gets the feeling that the council members involved have "some sort of private agenda." She said she feels frustrated with the whole situation – with Fish and Game's behavior and the Forest Service too. Lizza-Moyer said she had never spoken at a Town Council meeting before but her frustration brought her to the podium. "Frustration," she said, "that Steve Searles lives with every day." She said she sees no progress made by the Wildlife Subcommittee.
Mayor Pro Tem John Eastman said after the meeting that he thought it was "stunning that three of the 5 council members wanted closed meetings when they had run for office on open and transparent government.