On Wednesday March 18th, at about 9:45 p.m., Justin Alan PLATT, an 18 year old Mammoth Lakes resident was brought to the Mammoth Lakes Police Department by his father, to turn himself in for the Burglary at Mammoth Lakes Wellness.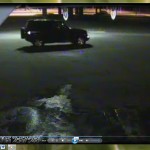 Mammoth Lakes Police Officers have been diligently working on this case since it was reported during the early morning hours of March 9th, 2015.  Platt was eventually identified as one of the suspects and a warrant was obtained for his arrest.  Platt has been out of the area, but was in contact with Officers to negotiate his surrender.  Although Platt was taken into custody, the investigation into the burglary and subsequent threats to the employee continues and additional arrests are possible.
Platt was processed at the Mammoth Lakes police station, and then booked into the Mono County jail. His charges are 459 PC/ Burglary and 422 PC/Criminal Threats and bail has been set at $50,000.  Additional charges of conspiracy to commit burglary may be considered by the District Attorney's office based on the investigation
The Mammoth Lakes Police Department would like to thank the community for being so involved in this investigation and for providing numerous tips, some of which ultimately led to a successful conclusion.  It is because of the support that we can continue to make Mammoth a safer place to live and work.