Susan Beth Barnato was born August 3, 1941 in Chicago, Illinois to Bernard and Marjorie Clayton.  She Spent her youth in Honolulu, HI and San Mateo, CA and graduated with a Bachelor of Science degree in Biology from the University of California at Davis, in 1963.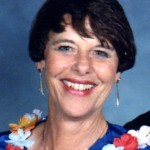 Susan Married Dr. Carl Lind and they welcomed sons Mark William in 1965 and Steven Michael in 1968.  A resident of Bishop, CA since 1969, Susan loved cooking and sewing with family and friends.
She married James Richard "Dick" Barnato in 1986 and they enjoyed bowling together on league for many years. A consummate lady in any setting, Susan was a loving and devoted mother and grandmother.  Her "Grammie Jammies" and five star meals and desserts cooked at home will be forever missed but not forgotten.
On March 1, 2015, Susan passed away at her home. Susan is preceded in death by her parents and survived by her husband Dick Barnato, his daughter and son-in-law Tracy and Rob Hyde and son Scott Barnato; her sons and daughter in laws, Markand Heather Lind and Steve and Janai Lind; brother, Jeffrey and Linda Clayton; grandchildren, Evan Spoonhunter, Erin , Eric and Jonathan Lind, Cheyenne and Zoe Walter, and Broook Oney along with countless family friends.
A private memorial will be held. In lieu of flowers or gifts, the family requests that donations be made to local scholarship programs.