Inyo and Mono Supervisors will talk about dump fees, DWP issues, a bear trap and Conway Ranch.
First Inyo. At 10am Tuesday, the Board will consider approval of an ordinance that sets up solid waste disposal fees and a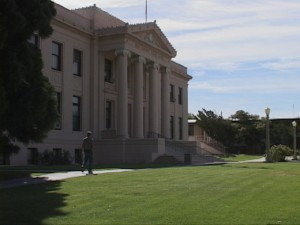 rate schedule for residential and commercial sold waste collection and hauling services.
At 11am, Martin Adams, Director of Water Operations for the Los Angeles Department of Water and Power will talk with the Board. The agenda says on "issues of mutual importance to Inyo County and LADWP." When asked for something more specific, Inyo County Administrator Kevin Carunchio said that Adams planned to be in the Eastern Sierra this week and said he would stop in to tell the Board what's going on and to take questions.
The Mono Supervisors plan to meet in Mammoth Lakes Tuesday at 9am in the supervisors meeting room on the third floor of the Sierra Center Mall. The meeting will be videoconferences to Bridgeport, viewable in the board room on the second floor of the courthouse.
The agenda items include a resolution of appreciation to County Administrator Dave Wilbrecht who will go to work as the Town of Mammoth Lakes Town Manager June 1st.
On their agenda, an ordinance that deals with public use of Conway Ranch. And, the Department of Fish and Game wants the Board to approve use of find money to buy a bear trap and trailer for $9,950 and to spend up to $10,000 on the Eastern Sierra Bear Education Partnership for development of a tagline/logo to be used in public education materials. The Fisheries Commission recommends $2,000 for this plan, not $10,000.