Inyo Supervisors seem to favor DWPs use of less water on the Owens Dry Lake. Its unclear if they think Inyo will get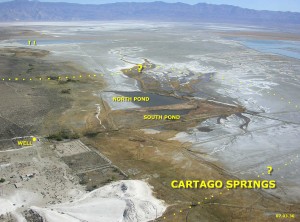 some of that water, since it will likely go down the aqueduct. The issue of DWPs mitigation of Owens Dry Lake dust will come up at an October 22nd meeting of the State Lands Commission. Staff of that body had criticized the way DWP has tried to switch mitigation to elevated rows of dirt instead of water. When they meet tomorrow, Inyo Supervisors will probably designate members to go to that State Lands Commission meeting.
The Inyo Board agenda says that the Boards representatives would provide comments endorsing the lease of Owens Lake property for proposed moat and row and other dust control measures that do not rely on the use of water. Locally, those who support new wildlife on the Owens Dry Lake fear less water may harm the thousands of birds who have now made the lake bed their home.
When Mono Supervisors meet tomorrow, they will review the local health emergency declared at the request of health officer Dr. Rick Johnson, in regard to H1N1 flu. The emergency status opens up the possibility of help in case of pandemic flu circumstances.
Mono board members may discuss issues pertaining to the state budget this is listed on their agenda.
Also on the agenda an appearance by John Wentworth on a Mammoth Lakes Trails and Public Access issue.
An employment contract is on the agenda for Jeremy Ibrahim to hire him as a Deputy District Attorney. The cost? $103,000.
Both boards start to meet at 9am in their respective supervisorial chambers.