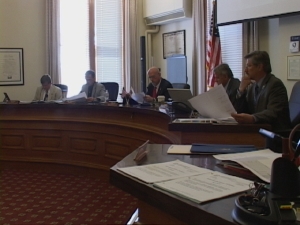 The Mono County Supervisors planned to meet in a special session Thursday afternoon at 2:30pm in Bridgeport. The Board meeting addresses the County Administrative Officer position.
Board Chair Byng Hunt said that the County closed CAO applications on April 15th and had received 25 applications. Hunt said that the special meeting marks the first review by the recruitment firm, Ralph Anderson Associates, of the candidates. The Board Chair said it is a paper review of the applicants.
The Ralph Anderson firm pre-screened the applicants, and the County will narrow the field to a dozen or so possible candidates. They will then conduct interviews over the next couple of weeks. Chairman Hunt said the Board hopes to have a new CAO working by sometime in June.
Former CAO Jim Arkens had left somewhat suddenly for an administrative job in Sutter County at the end of January. The Mono Board of Supervisors appointed Mono Director of Public Health Lynda Salcido as the Acting County Administrative Officer.
Initially, the Board had planned to hire an interim CAO prior to hiring a permanent administrator. Now, they will apparently go from Ms. Salcido to the permanent CAO in June.
In other closed session items, the Supervisors planned to confer with their labor negotiators about all of the employee groups. The agenda lists two conferences with legal counsel – one over initiation of litigation and the other over the existing lawsuit filed by former Road Department mechanic, Dick Luman. The agenda lastly speaks to employment of an IT Director.