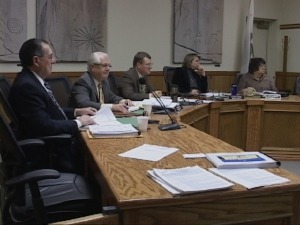 Boards of Supervisors meet tomorrow in our two counties. Both meetings start at 9am. First, Inyo.  The agenda shows an item from District Attorney Art Maillet.  It's about filling the vacant position of Assistant District Attorney.
DA Maillet terminated the last Assistant DA, Will Richmond, who was widely admired for his legal experience and expertise.  Maillet wants Board approval for the funding of this position at a salary of $8,973 per month.  The agenda also indicates that the hiring will be done "off the existing eligibility list."  The agenda says that the job could be filled by an internal recruitment but that there is a current existing eligibility list for the position.
The Inyo Board will also consider a resolution to reaffirm support for the Digital 395 broadband project and commitment of financial and administrative support.  In closed sessions, the Board may consider appointment of a Public Works Director and they will give instructions on wage, salary and benefit negotiations with six different employee groups.
Meanwhile, in Mono  County, the Board will meet in Mammoth Lakes tomorrow in their meeting room on the third floor of the Sierra Center Mall.  The Board will consider a proposal to contract with Fitch & Associates for consulting services to evaluate the Mono County Paramedic Program.  If they agree to do this, officials say the cost would not exceed $68,640.
On the Mono Lake State Tufa Reserve, slated to close next year due to state funding issues, the Board may approve a letter of support for a proposal from Dave Marquart of the Reserve that secures funding from the Bodie Foundation and sets a parking fee at the marina.  Supervisor Tim Hansen would deliver the letter at a legislative hearing in November to try to help keep the Reserve open.
The Board will also review the emergency they declared to repair or replace the roof at the Crowley Road Shop.  Public opinion has frowned on the fact that the County left a local contractor out of the loop, instead bringing in a Nevada contractor to do the work. The local contractor, Rand Pelcher, had received a letter of intent to award the roof bid to him.