Why is it news that an Inyo Supervisor told hard truths to the DWP General Manager? Because it's a first? Seems so. Nowhere in memory can anyone recall an Inyo Board member who took DWP to task like Supervisor Susan Cash did last week. We asked her why she did it.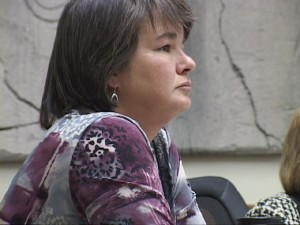 More than a week ago DWP Interim Manager Dave Freeman came to town to hold a meeting on his big solar plans for the Owens Dry Lake and Owens Valley. The next day, Freeman spoke at a Supervisors' meeting. Susan Cash laid out the real gripes of Inyo people.
She nailed Freeman on failure to release land, failure to consider the simple needs of our business community and the people. She pointed out that DWP still owns many business houses and that the owners have no ability to buy their buildings. I asked Cash what prompted her to be so frank. She said that "We don't often have that opportunity – to talk to David Freeman. I was listening to and playing off the things he mentioned," she said.
Cash said when Freeman called the Owens Valley "pristine", she said the way it is today was not the goal of the Long Term Water Agreement, which did call for raising the groundwater.
"It seemed like an opportunity to bring up issues." Cash added that in the last couple of years, DWP commercial leases have come up for renewal. She said the new insurance requirements for environmental clean-up are very expensive. Cash said some of the policies require pre-payment of 5 years of premiums.
Freeman said he would sit down and talk about land for the towns. Cash said she will follow up to make sure it happens. "I was glad to hear he is open to talking about individual properties," said Cash.
The Supervisor said there are many more issues that need discussion – like Klondike Lake access. When asked what kind of response she has received for her remarks to Freeman, Cash said she has received a number of phone calls and emails – all supportive.