On the local election scene, the Mono County Superior Court Judgeship is wide open for a new candidate, and Inyo's long-time Superior Court Judge will go for re-election. A local attorney has now announced he will go for the Mono seat.
For the last couple of months, rumors in Mammoth Lakes indicated that Mono Judge Ed Forstenzer had told friends that he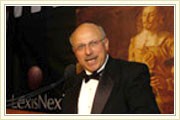 would not seek re-election this June. Friday, Judge Forstenzer issued a one paragraph press release that said he will not seek re-election.
Forstenzer has served in Mono Courts since June of 1988. Judge Forstenzer is quoted as expressing his "deep appreciation to the citizens of Mono County for the trust and confidence that they have placed in him for the past 22 years." Judge Forstenzer expects to retire in April.
Late yesterday, Mammoth attorney Randy Gephart issued a statement that he will run for the Mono Judge. Gephart says that he has been an attorney for over 30 years, 20 of which have been in Mono County. He says, I have vast experience in both criminal and civil matters. As a Mono County Public Defender for the past 13 years, I have handled a myriad of criminal matters, from infractions to major felonies, said Gephart. He said he has also handled many cases in his private practice in both he criminal and civil arenas. Gephart supports his candidacy when he says, I believe I have as much, if not more, civil and criminal experience combined than any other candidate or potential candidate for this position.
The only other indication of candidacy for judge in Mono County came from attorney Rick Wood who said hes considering it.

In Inyo County, Judge Dean Stout will go for another term on the Superior Court bench. Judge Stout has served for more than 12 years and claims numerous accomplishments, including appointment by the Chief Justice of the California Supreme Court to serve on several statewide commissions and committees.
Judge Stout also points to the recently established Inyo County Foster Care Commission, co-chaired by Judge Stout and Health Director Jean Turner. The Judge also reveals the relatively speedy pace of justice in Inyo County Superior Court which he says has "often ranked number one or two in the state in case dispositions per judicial positions."
It was also Judge Stout who established the Drug Court in Inyo County as an alternative to jail for those involved in drug offenses. They Judge has also been instrumental in obtaining approvals and funding for a new court facility in Independence which will go up over the next few years.