Lions Fire Update
(News release)
The Lions Fire saw 10 acres of growth yesterday and is estimated to be 4,277 acres and 92% contained. The fire is burning in the Cargyle Creek area, south of Corral Meadow, on the Sierra National Forest.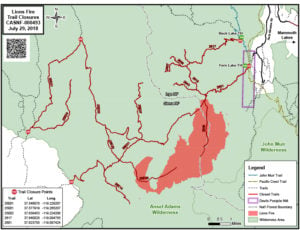 The fire is burning in an area that has seen up to 50% tree mortality from bark beetles. Progress was made by the crews over the past few days at keeping the fire out of the North Fork of the San Juaquin river drainage. The combination of large amounts of standing dead trees (snags) and steep terrain have made continued direct confinement difficult and unsafe for the crews on the ground.
Efforts today by firefighters will be to look at options to confine and contain the fire using natural barriers (such as cliff bands) and minimum impact suppression tactics (MIST) within the Ansel Adams Wilderness.
Fire behavior remains low to moderate intensity with occasional tree torching. National fire activity has increased immensely and the nation is now at a preparedness level of 5. Yesterday alone there were a total of 125 incidents across the country with a total of 23,196 personnel assigned. The Lions fire currently has 119 total personnel assigned, including 4 crews and 4 helicopters. More resources are on order.
Warmer and drier conditions are in the forecast, but there is still the potential for lightning and showers in the area.
There is currently no threat to life or property. The Reds Meadow Road and all services in the Reds Meadow Valley, including Devils Postpile and Rainbow Falls, remain open. Smoke may be visible from Minaret Vista, Devils Postpile National Monument, Mammoth Mountain, areas along the Reds Meadow Road, and the Town of Mammoth Lakes. The Ferguson fire to the North has been impacting the area with smoke as well.
###
Stage 1 Health Advisory
Affected Communities: Mono County
Smoke Source: Ferguson Fire and Lions Fire
Based on air pollution levels at the Lee Vining PM2.5 monitor from 3:00 pm to 4:00 pm PDT on July 29, 2018 a Stage 1 Air Pollution Health Advisory has been issued for Mono County.
A Stage 1 Health Advisory recommends children, the elderly, people with heart or lung problems, or people with current illnesses such as the flu, to stay indoors and avoid strenuous outdoor activities in the impacted areas.
Smoke conditions may change quickly. If you have any questions please visithttp://www.gbuapcd.org/ or call the Great Basin Air Pollution Control District office in Bishop at 760-872-8211 during regular business hours.
Health advisories on the web: http://www.gbuapcd.org/AirMonitoringData/HealthAdvisories/
---
Current Smoke Information
Great Basin Unified Air Pollution information on all smoke events being monitored in the District:
www.gbuapcd.org/smoke
US Forest Service BlueSky smoke forecast: https://haze.airfire.org/websky/v1/run/standard/CANSAC-2km/current/
Hourly PM10 & PM2.5 information for Lee Vining: https://www.gbuapcd.org/cgi-bin/tabularViewer?siteName=AirVision/Lee%20Vining
Camera Views of Mono Lake: https://www.gbuapcd.org/cgi-bin/cameraViewer?Mono+East=on&Mono+West=on
Ferguson Fire InciWeb Page: https://inciweb.nwcg.gov/incident/5927/
###
Update on Sequoia and Kings Canyon National
Parks Firefighter Fatality
SEQUOIA AND KINGS CANYON NATIONAL PARKS, Calif. July 29, 2018 – The firefighter who lost his life in an accident on the fireline this morning has been identified as Brian Hughes, Captain of the Arrowhead Interagency Hotshots. He was 33.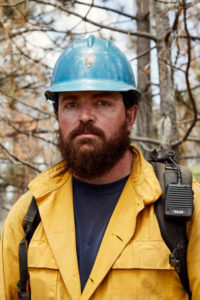 The fatal incident occurred earlier this morning. At the time, Hughes and his crew were engaged in a tactical firing operation on the east side of the Ferguson Fire. They were operating in an area with a large amount of tree mortality. Hughes was struck by a tree. He was treated on scene, but passed away before he could be transported to a hospital.
Hughes was originally from Hilo, Hawai`i, and has been with the Arrowhead Interagency Hotshots for four years. The parks ask that public and media respect the other crew members' privacy during this tragic time.