Press release
Mammoth Lakes – SCT Acting Artistic Director Allison McDonell Page and MLRT Artistic Director Shira Dubrovner announce their co-production of Tennessee Williams'classic play of unrequited love, SUMMER AND SMOKE, opens Thursday, April 4 and runs for two weekends through April 14. This second collaboration of the two thespian groups follows last year's highly successful presentation of LAST OF THE RED HOT LOVERS.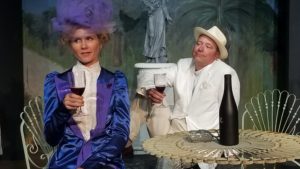 "This is a play I've long wanted to perform," stated McDonell Page who plays the lead character Alma, "and I appreciate the opportunity to collaborate with MLRT to make the experience happen not just for me, but for our community. It's also a thrill for me to know that Alma was for Williams the favorite character ever wrote. His gift of portraying people in conflict and heartbreak is an inspiration."
One of Tennessee Williams' most subtle and tender works, Summer and Smoke explores the conflict between the hedonistic body and the lofty spirit. Set in Mississippi, Alma Winemiller, the minister's daughter, has grown up loving the boy who lives next door: John Buchanan, the doctor's son, is a wild, adventurous, mischievous pleasure seeker. He spends the hot Mississippi summers drinking, gambling, and romancing. Alma, on the other hand, is quiet, eccentric, and high-strung; aspiring to lofty spiritual goals and holding to strong moral standards. Despite their differences, John and Alma are magnetically drawn to each other, and the spiritual and physical romance that almost blooms between the two of them is among the most engaging, romantic, and heartbreaking love stories in Williams' canon.
"When Allison suggested this play as a co-production after the success we had last year working together, it was an easy agreement. It's an opportunity to collaborate with other arts organizations," stated Dubrovner who takes on multiple roles in the production, both on and behind the stage. "Our community deserves quality entertainment and I'm grateful to be able to extend the MLRT season with this collaboration."
Directed by Juliana Olinka Jones, an MLRT regular contributor, the large cast, includes several newcomers to the Edison Theatre stage. "We did a large casting event in the fall for the seasons of both theatrical companies and so many talented young people who came out for the roles of Young Alma and Young John Jr. that I double cast them. I'm excited to be directing people I've worked with before and people I've seen on stage but am working with for the first time in addition to those making their debut."
In addition to McDonell Page, the cast of locals from up and down Hwy 395 includes the child actors playing Alma and John Jr. in their youth, Lucy Perry and Cyrus Creasy (weekend one) and Jasper Page and Lila Creasy (weekend two), from Mammoth Lakes. Additional performers include Jason Crockett (Dr. John Jr.), John Louth (Reverend Winemiller) and Gail Swain (Mrs. Winemiller) from Bishop, Leslie Redman (Rosa Gonzalez) from June Lake; Shira Dubrovner (Pearl/Rosemary) from Mono City. They are joined by Charles Scatolini (Dr. John Sr.); Lesley-Anne Hoxie (Nellie); Craig Sterling (Roger Doremus); Alisa Mokler Harper (Mrs. Bassett); Michael Aguirre (Gonzalez); Jeff Frome (Dusty/ Vernon); in addition to Arthur Varela (Archie Kramer) making his stage debut, all from Mammoth Lakes.
SUMMER AND SMOKE opens Thursday, April 4 and runs for two weekends through April 14thwith Thursday through Saturday performances at 7:00 pm and Sundays at 4:00 pm. Tickets are available at MammothLakesRepertoryTheatre.org. ____________________________________________________________________
FACT SHEET:
WHAT:             SUMMER AND SMOKE (an SCT/MLRT Co-production)
WHEN:             April 4 – 14th, 2019
WHERE:           Edison Theatre, 100 College Parkway, Across from Cerro Coso College
HOW MUCH:   In advance: $20 Adult/18 Sr. and Student; At the door: $22-no discounts
MORE INFO:  It'www.MammothLakesRepertoryTheatre.org