Negotiations for year-round air service will continue in Mammoth Lakes now that the Town Council has given approval to Town Manager Rob Clark to keep talking with Horizon Airlines as well as Mammoth Mountain Ski Area.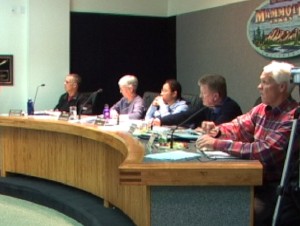 The Town has discovered that subsidizing year-round service is not going to cost as much as they had originally anticipated. The estimated cost to run one flight per day from mid-April through the end of September, and then from Nov. 17 through Dec. 17 is $650,000. That number is based on 201 days of service, 76 seats per flight, $150 roundtrip ticket cost, and a 50 percent load factor. The cost could be more or less depending on the actual performance.
Mammoth Mountain has offered to pay half of the $650,000 on top of dealing with winter air service, which brings the Towns portion down to $325,000. Town staff explained to the Council that Measure A dollars were earmarked for marketing, or getting more visitors to town, which they felt was exactly what year-round air service would do. They also pointed out that the proposed service extended over two fiscal years making the cost to the already tight 2009/10 budget approximately $172,000. The proposed 09/10 budget contains $250,000 of Measure A dollars for air service support at this time.
Mammoth Mountain CEO Rusty Gregory spoke to Council to calm any fears they may have had in the situation. He explained that in the winter of 08/09, the Mountain had expected to pay anywhere between $250,000 and $300,000 to subsidize air service but had ended up paying zero because the service had done so well.
Basically the subsidy is to guarantee that the airline at least breaks even, Gregory explained. Its a ludicrous time to take risks without funds, but there are funds in place for this and air service is the most popular form of marketing right now. It gave the Mountain something new to talk about.
Gregory reiterated the Mountains commitment to pay for half the subsidy and when asked by Councilmember Jo Bacon if he would sign an agreement to this point, he claimed he would and jokingly offered her the $2.50 in his wallet as a down payment.
Negotiations will continue, but as of now the Mountain is looking at three flights a day to different hubs for winter air service. Air service throughout the rest of the year would provide one flight per day most likely to LAX, since, as Gregory stated that is the least risky route.