Neighbors said he was a tired, old man getting ready to check out. 67-year-old Wilfred Schober had come to town to do some work on his daughter's property, according to neighbors, but they said Schober did a lot of drinking and started to talk about his intent to commit suicide via "death by cop." That's where the Sheriff's Office came in.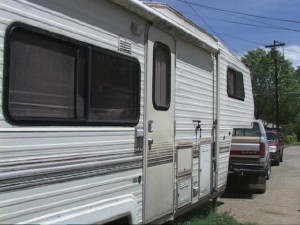 The Inyo County Special Enforcement Detail, made up of Inyo Sheriff's deputies and Bishop Police, responded to a desperate call.
It was about 3 p.m. Monday when officers received a call of a possible suicide on Shepherd Lane in Bishop. Sergeant Jeff Hollowell said that when officers arrived, the man ran into his 5th wheel trailer and barricaded himself. Hollowell said for the next five hours, a hostage negotiator, mental health and friends tried to talk him out. He refused. Officers were concerned since Schober was "known by individuals to possess firearms and was reported to have been drinking heavily."
Shepherd Lane was closed for a few hours. Deputies escorted residents in and out of the street. Neighbors said it was a tense experience.
Neighbors, Hollowell said, told the officers that Schober said if the cops came to get him, he would shoot it out. Hollowell said officers cut a hole in one of his screens and threw in a phone. They tried to call him. Then, the got his actual phone number. Countless tries ended with Schober finally answering and then hanging up.
As a last resort, Hollowell said officers used a canister of a chemical gas similar to pepper spray. They put it in the trailer through the hole in the screen. Schober opened the door, and once officers saw he had no weapon they took him into custody. "We were trying to get him out the safest way," said Hollowell. Schober was taken to Northern Inyo Hospital for medical clearance and mental health evaluation before being booked for public intoxication and obstruction/ delaying an officer in the performance of his duties.
Officers said Schober was so intoxicated that they had to take him to the Inyo County Jail to detoxify. He was being held pending a further mental health evaluation.