It is with great sadness that we announce the passing of long time Bishop resident Sue Carolyn Conn on February 7, 2015.  Sue was a beloved wife, mother, grandmother and friend.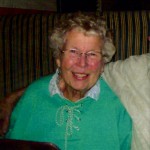 She was born January 23, 1931 to Erma and Tom Beal. She married the love of her life Richard (Dick) Conn in 1950, not quite making their 65th wedding anniversary.  As newlyweds, Dick and Sue managed the June Lake lodge, owned by Dicks father. They subsequently made their home in Covina, California.
Dick and Sue loved the Eastern Sierra, and they made the move from Southern California to Bishop in 1971. Sue was very active in the community and she held many volunteer positions. She ran the 6th-8th-grade ski program for many years; she worked at the Laws Museum, the Hospital Auxiliary and was a member of the service club Altrusa. She was a member of the 49rs, and was the group's president in 2001.
Sue was an enthusiastic long time athlete. She played tennis for many years, and ran with Tracy Smith's running group.  She did many 5k and 10k runs, and especially loved the Bridgeport 10k held on July 4th. She also participated in the Cal Electric Squares- a square dancing group.
Sue and Dick loved to explore the Eastern Sierra and the South West with their dachshund friends and camper.  They spent many summers investigating the canyons and coves of Lake Powel and other locations on the Colorado River.
Sue leaves behind sons Peter and Chris, their wives Susan and Amy, grandsons Nicholas, Andrew and Ryan, cousin and Bishop resident Julie and Ted Metz and beloved dachshund Penny.
A gravesite service will be held on Wednesday, February. 11th at 10am, Caddy Jackson officiating. In lieu of flowers please help support research for a cure for Alzheimer's Disease, or a charity of your choice.