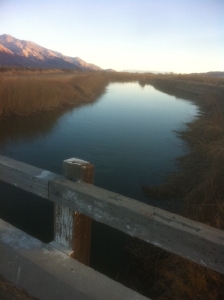 In spite of the Los Angeles Department of Water and Power's singular obsession with getting as much water as possible out of the Owens Valley, landscape architecture students from Cal Poly Pomona have come up with a vision of their own for the next century in the Eastern Sierra. They will hold workshops to hear from local residents this weekend.
Assistant Professor Barry Lehrman said four graduate students created an idea from the ground up to see what is a possible game plan for Owens Valley. Asked if LADWP land and water ownership did not preclude many choices, Lehrman said, "We are looking at alternatives to DWP ownership, at ways to better manage as guidelines and suggestions."
Lehrman said, "If a vision were mutually agreeable, it could represent a shift in the quality of life for residents, the ecology and Los Angeles." He spoke of water needs being met without creating impacts elsewhere. How would this happen? Lehrman said perhaps LA needs to look at getting water somewhere besides the Owens Valley. He said there may be ways to balance the population and the ecology. Lehrman suggested that it's time to ask "How much water do people of Los Angeles really need?" He said it's a question worth asking after operating the aqueduct for 100 years.
Lehrman said four graduate students will host workshops to hear from the Eastern Sierra public. He said the students are investigating the entire watershed supplying the Los Angeles Aqueduct to develop a comprehensive regional plan that addresses ecology, cultural uses and the water supply. This is part of what is called the Cal Poly Pomona Aqueduct Futures Project.
The workshops take place in Lone Pine on Saturday from 3pm, to 5pm at Statham Hall and Sunday at the June Lake Community Center – 3pm to 5pm.