A suicide and attempted murder have drawn Inyo Sheriff's investigators to the far southern end of the county. They believe the suspect in a strangulation case took his own life.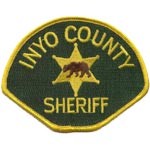 Inyo Sheriff's detective Jeff Hollowell reported that Monday night, deputies received a call from Ridgecrest Hospital that they were attending to the victim of an attempted murder. The victim, a 52 year old Southern California woman reported that an acquaintance had tried to strangle her. She drove herself to the hospital.
Sheriff's officers went to the hospital to interview the woman. They said the suspect was a man who lived in Trona. Investigators located the scene of the crime off Highway 190 near the White Swan Mine. Officers went to work to get arrest and search warrants when they received a call of a possible suicide near Slate Range in Inyo County. Officers said the suspect had died from a self-inflicted gunshot wound.
The victim of the strangulation as released form the hospital. The Coroner will investigate the reported suicide.