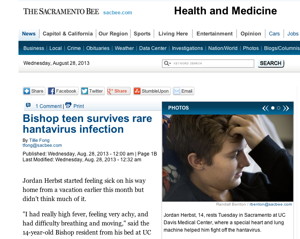 On Wednesday, the Sacramento Bee featured an article about 14-year-old Jordan Herbst of Bishop who contracted hantavirus and nearly died. The story tells how he was flown out of Northern Inyo Hospital to Renown Medical Center in Reno and then to UC Davis Children's Hospital in the Sacramento area where special equipment saved his life.
It was earlier in August when Jordan fell ill with flu-like symptoms. He kept getting worse. According to the Sacramento Bee story, Jordan's mother, Katharine Allen, took him to the Rural Health Clinic where a nurse, who herself had survived hantavirus, advised him to come in. Ms. Allen, the article says, credits that nurse for saving her son.
The article said Jordan was flown to UC Davis Children's Hospital for use of special equipment to help his lungs and heart. The Sacramento Bee reported that on August 21st, results came back that Jordan was positive for hantavirus. The Bee says he is expected to be discharged from the hospital this week. The Bishop High freshman will catch up on missed classes and rebuild his strength.
It was on August 19th that Inyo-Mono Public Health Officer Dr. Rick Johnson reported that a local Inyo resident had been hospitalized with "a clinical picture that is highly suspect of being caused by hantavirus."
The Sacramento Bee quoted Jordan's mother as saying she suspects her son was exposed to hantavirus while exploring a mining cave near their home in Bishop. There are many precautions that can be taken to protect against hantavirus exposure from rodent droppings. Go to our website and search "hantavirus". Read the Sacramento Bee article here: http://www.sacbee.com/2013/08/28/5686587/medical-efforts-save-teen-in-rare.html