As this series of winter storms winds down, multiple feet of new snow now covers the Sierra, and inches of new snow in the Owens Valley continued to cause problems on the highways and roads.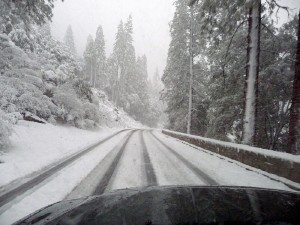 All week long, the weather slowed drivers on the highways, shut down 395 north of Mammoth multiple times, and led to numerous spin outs, stuck vehicles, stuck big rigs, and other assorted traffic accidents. While the heavy snowfall has started to wind down today, ice and snow remained an issue on the highways from the southern end of Owens Valley and beyond to Bridgeport to the north.
Forecasters had at one point called for 8-12 feet of new snow this week, but as the storms closed in on the Eastern Sierra the predictions lowered to 6-8 feet. At Mammoth Mountain Ski Area, staff lists the snowfall total for the week at just under eight feet, with the most snow coming on Monday and Thursday. Over two feet of snow fell on those days, with Wednesday coming in third with twenty one inches of new snow.
With close to 8 feet of new snow at Mammoth Mountain, snow sports fans should be excited. Forecaster Dennis Mattinson says that early on, it appeared the storm was aimed straight for Mammoth, but that the bulls eye, ended up targeted on southern California and Baja. The southern track of the storm has led to power outages, mudslides and even a few reported tornadoes in Southern California. Closer to home, the southern track of the storms led to chain controls between Panamint Springs and Stovepipe Wells in Death Valley National Park, along with some flooding in the park.
Yosemite National Park has completely shut down all roads into Yosemite Valley. The three highways that lead to the valley are now closed for either snow and ice or downed trees. Park Staff reports that eight feet of snow fell at Badger Pass, while Tuolumne Meadows received six feet of new snow. The roads were set to be closed Friday night and into Saturday. There is no set date for the roads to Yosemite Valley to re-open.
Roads were still tough today, but crews were making progress as the storm starts to wind down. Forecasters say Saturday and Sunday should have decent weather, but another system may be on tap for Monday.