As advertised, the weather this week has taken a turn for the stormy. Welcome snowfall arrived in the higher elevations of the Eastern Sierra Sunday night and really picked up Monday, dropping about two feet of new snow at Mammoth Mountain.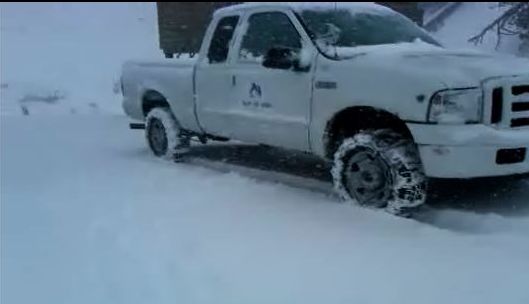 The Inyo Sheriff, the Mono Sheriff, and the Town of Mammoth have put out preparedness messages to remind people to get ready for the storms. Officials ask that we be prepared for tough road conditions and possible power outages at home.
Forecasters are calling for multiple feet of new snow in the Sierra by the end of the week, with some enthusiastic snow fans calling for over eight feet of snow this week. So far the weather has led to run of the mill issues in the Eastern Sierra.
Caltrans has called for chain controls from Sherwin Grade to the Walker River Canyon north of Bridgeport. At one point Monday night, 395 was shut down between Mammoth and Bridgeport, but has since re-opened. Chain requirements were reported in Mammoth, a town well set up to handle the snow that falls. For those that make it up to Mammoth or June Mountain Ski areas this week, the snow has already started to build in amounts that could help extend the season into the late spring.Winds can be an issue for skiing on a storm day, but at Mammoth Mountain, more lifts were open Monday than closed to those that headed up the hill for some fun.
In Bishop the rain fell in varying intensity Monday, but perhaps people have taken heed of the forecasts, or maybe people have taken advantage of the day off work and are lounging at home. The streets and highways appeared to be relatively quiet. At one point the Bishop Volunteer firefighters were called out to 395 and Pleasant Valley for a report of a strong propane smell. Bishop Fire Chief Ray Seguine didnt locate any propane leak and thought that the strong smell in the area was due to burnt gear oil after someone picked up too much speed coming down the Sherwin Grade with their four wheel drive still on.
The wet weather is expected to continue for the rest of the week, so be careful out there. Stuart Brown with the Town of Mammoth has put out a few reminders about being safe around snow removal equipment. Brown says to keep children indoors while snow removal operations are underway and to keep a safe distance away from the snow removal operations. Brown uses the guideline of over 40 feet away from the machinery whether you are driving or are a pedestrian.
The other advice should be old hat to most in Mammoth – park your vehicle well inside the snow stakes, and when you do drive in poor conditions, slow down. The speed limit when there are chain controls in town is 25 miles per hour.