– Press release
July 22, 2015 – Mammoth Lakes, CA.  Mammoth Lakes Repertory Theatre's Playwrights Unit presents a staged reading of, "STIRRUPS," an original play by Mammoth Lakes local, Stacey Powells at the Edison Theatre on Tuesday, July 28, 2015 @ 7PM.  Admission is free. The Playwrights Unit has been unofficially in operation for several years, introducing members of the community to original works where they are invited to share feedback with the writers.
"This is the first official Playwrights Unit presentation," stated Artistic Director Shira Dubrovner.  "Stacey has contributed to the theatre in various capacities over the last years behind the scenes.  I'm excited to share this experience with her, providing her with the opportunity to hear the play read by actors."
Powells, who has been a public speaker on the radio for over 10 years as well as a columnist, journalist, and now a wedding officiant, envisions STIRRUPS as a blending of "Same Time, Next Year," meets "The Vagina Monologues." STIRRUPS the Play has nothing to do with horses. It is every woman's story about lust and betrayal, grief and accountability. It is a two-act journey that both mourns the loss of innocence and celebrates aging gracefully as someone who has been in the stirrups can understand.
"I'm excited to hear the words spoken out loud," stated Powells.  "It will be exciting to hear it somewhere other than in my head."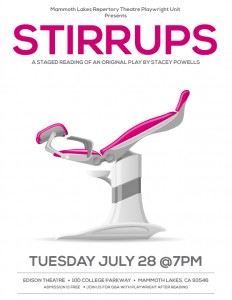 The story begins as Elyse Marks, at just 15 years old, is forced by her mother to go to her first gynecologist appointment with the "new-doc-on-the-block," Dr. Steve Sheldon. Her mother, Beatrice Marks, does not want her daughter to get pregnant so it's time for the diaphragm! Dr. Sheldon continues to be Elyse's "go-to" doctor throughout her life.  Over the course of the next 50 years, two acts, and many gynecological appointments later, she confesses intimate details about her private life to Dr. Sheldon and Nurse Carol. Bits and pieces of all their lives slowly begin to unravel. Safe sex, pregnancy, divorce, menopause, and eventually a disease that slowly deteriorates the doctor who Elyse has grown to adore and trust, all take place around the office where the use ofstirrups is just an exam room away.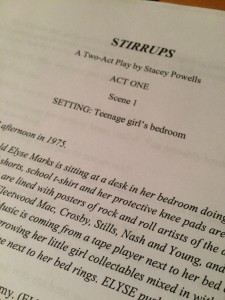 Additional information about the show and the entire Mammoth Lakes Repertory Theatre season can be found at MammothLakesRepertoryTheatre.org
FACT SHEET:
WHAT:           STIRRUPS by Stacey Powells
WHEN:           Tuesday, July 28 at 7:00 p.m.
WHERE:         Edison Theatre; 100 College Parkway
COST:             Free
Mammoth Lakes Repertory Theatre, located at Edison Theatre, is a DBA of Mammoth Lakes Foundation. The Mammoth Lakes Foundation is dedicated to supporting higher education and cultural enrichment in the Eastern Sierra. Recent successes include supporting Cerro Coso Community College, which recently graduated its largest class of students this past year, creating a state-of-the-art student apartment facility, providing over 625 scholarships to local students to attend Cerro Coso College-Mammoth Campus since 2003; and building the 100-seat black box Edison Theatre for Mammoth Lakes Repertory Theatre. For more information or to make a tax deductible donation please contact Mammoth Lakes Repertory Theatre by calling 760.934.6592.  Our nonprofit work is only possible through your generosity.