Several of our viewers, listeners and website readers have pressed the question – will there be charges related to the brawl at Rusty's Bar in May?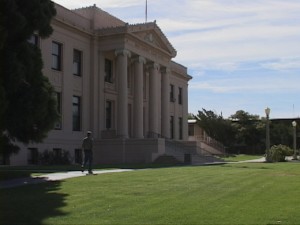 That bar fight involved two Mammoth Lakes Police officers. Inyo District Attorney Art Maillet had earlier commented that the case would be treated like any other. So, why the lengthy delay in disposition?
Maillet said this week that his assistant Mark Johnson, who is handling the Rusty's incident, was involved in a trial most of last week and has 12 to 15 taped interviews to review before making a decision on charges.
Meanwhile, the two Mammoth Police officers involved in the bar fight incident were initially put on administrative leave. One of them, Officer Dan Casabian, has returned to work. Police Chief Randy Schienle said any information on possible discipline is confidential.
Chief Schienle said that it was made public at a town council meeting that Sergeant Eric Hugelman, the other officer involved in the Rusty's fight, had been terminated. So, the Chief was willing to say this was based on findings from the internal affairs investigation. The Chief also confirmed that Hugelman has appealed the termination.