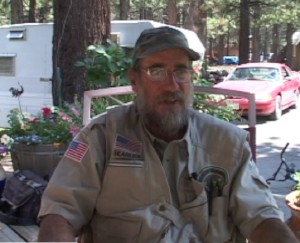 So, winter has dragged on into summer and the bears around Mammoth Lakes have definitely started to come to. Wildlife Specialist Steve Searles called the season the "longest winter in 35 years." The good news for Mammoth and its bears – plenty of natural food out there.
Searles said that as the front country opens up, it provides lots of natural grasses for the bears to break their 6-month sleep. As the snow recedes, he said, the bears mow down the heavy grasses for about 8 weeks. Searles said there is huge potential for natural food for bears through the summer.
He highly recommends that people continue with their habits of locking trash bins and not feeding the bears. Searles said the people in Mammoth are already doing an incredible job of that.
On the political side of town, Searles sees excitement for change on the Town Council. He has met with the newly elected members, who have publicly vowed support of Searles and his program.
Meanwhile, LMNO Production arrived in town for more filming of Searles and Mammoth Lakes for extended programs on the heels of the Bear Whisperer. No definite air dates yet.
So, while politics change, TV cameras roll, and Searles gears up for another season, the same advice stands firm – proper trash management, and no encouragement for bears to eat people food. Close and lock dumpsters. Feed pets inside and store pet food in tight containers.