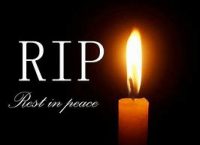 Steve was born in Vale, North Carolina, May 16, 1943 to Walter and Dorthea Smith Scronce. He passed
away at home on February 15, 2022 after a long illness. Steve grew up at the fourth of ten children. He learned at an early age about
hard work and good work ethics. At the age of seven, he helped his dad haul lumber to the mill, farming, hauling water and wood to the house for his mother. Later on, plowing fields with the tractor, learning the mechanics of farm equipment and cars.
Fun times going to dances with his older brothers. Steve met the love of his life, Mary Love, March 1967. First date was to a wedding then were together for 55 years. He worked winters plowing snow for Cal Trans at McGee Creek, later retiring after 22 years as a
building maintenance mechanic. In his spare time, he built 2 beautiful homes. Always time to help friends.
Steve and Mary had two sons, John and Darrell. Many good times with the dune buggy, Walker Lake water skiing, hiking to Agnew Lake and
hunting trips.
November 30, 2001, the lights of his life were born, COOPER AND Cole. For the next 20 years all of his spare time was with them. After
retiring in 2006 he took them to and from school and wherever they wanted to go. They loved their grandpa.
Steve is preceded in death by 3 brothers & a sister, survived by 4 brothers and a sister, and son, John. Survived by wife of 53 years,
Mary, son Darrell, daughter-in-law Lisa, twins Cooper and Cole of Spanish Springs, Nevada.
We love him and miss him but will see him again one day!
Services will be March 5 at 11 at East Line Street, graveside. A reception to follow at ElksPark.