STEPHEN "STEVE" RICHARD CARLSGAARD  1945 – 2017
Steve passed away peacefully but suddenly at home in his beloved Bishop, CA. where he has been for the last 20+ years.  He was able to live out his DREAM of reading & studying the Bible, writing, fishing, hiking, biking, photography, bird watching, nature (rain or shine) in the High Sierra's.  Bishop, Tom's Place and the Rock Creek area is where he enjoyed many early years of family vacations, he was so happy to be able to retire in Bishop and never wanted to leave.  Happy to just stay put!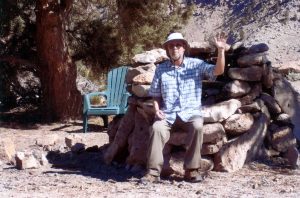 Steve is the son of his parents Theodore Henry Carlsgaard and Patricia Ann Hall.  He was raised in Long Beach, CA, attending & graduating from Jordan High School in 1963.
He was a hard worker in the transportation industry, and retired a Teamster in Good Standing.  Unfortunately, his lower back took such a toll with the years of heavy lifting it did make even walking hard on him in his later years.
Survived by is his 'beautiful' daughter Kimberly Sue Ann Carlsgaard from Escondido, CA, where they spoke often the phone. Sue Ann will greatly miss hearing about his excursions around the High Sierra's.  He will be also missed by his two 'lovely & caring' sister's on the East Coast; Caryn L. Colvill of Culpeper, VA and Candy McDonald of Greensboro, NC; along with many nieces and nephews.
Steve had such a unique wit and loved a good joke and story; and was very people oriented, Christ centered and made many friends in Bishop and will be greatly missed by his loving family and devoted friends.