Sierra Wave received word yesterday that the parent company of Sterling Heights Assisted Living Community in Bishop, Sierra Country Club Inc., announced that the residential elderly care facility will be closing in the next few months.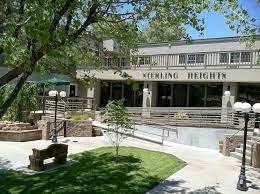 The facility offered studio units and a limited number of 1-bedroom plans according to its website. The future of the property should become a major concern of local government at both the city and county level.
The assisted living facility provided 24-hour assistance and supervision to its residents, which purportedly is serving 14 residents at this time. Sterling Heights management is working with the residents and their families to help with relocation. The nearest residential care facility is over 150 miles from Bishop.
Sterling Heights closure is a real loss to the community of Bishop and the surrounding communities in both the loss of an elderly independent and assisted living option, but in the loss of local jobs as well.
Sierra Wave will be looking further into the situation and report back to our readers and listeners as more information becomes available.