Two Mammoth Lakes men have joined to create a new idea and a new facility. Dave Harvey and Tony Barrett want to build a geothermal interpretive center on five acres near the Mammoth Pacific Geothermal Plant.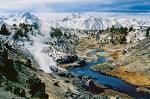 The new venture is called Geothermal Education Outreach or "GEO." Harvey is the CEO and Barrett, the executive director. GEO recently reached an agreement on a Letter of Intent with Mammoth Pacific to lease 5 acres of land for the project.
Barrett explained that GEO would develop a geothermal interpretive center and what he calls a living laboratory involving geothermal studies.
GEO projects a development date for the new center of 2012, after much work with Mono County agencies to achieve the goal. More later.