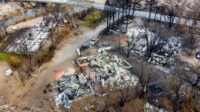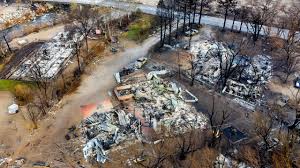 Almost a year after the start of the Mountain View Fire that destroyed 80 structures in Walker and took one life, the California Office of Emergency Services acknowledged it would
absorb 100-percent of the clean-up costs.
According to Bob Lawton, Mono's chief administrative officer, the projected cost to the
County would range between $2.5 and $5 million. "That would wipe out our savings account,"
he said.
The notification letter from CalOES outlined the conventional reimbursement policy in
the California Disaster Assistance Act, "the state share for any eligible disaster-related project
shall not exceed 75 percent." The decision to absorb the total cost was based on "receiving
Mono County's FEMA approved Local Hazard Mitigation Plan adopted into the Safety Element
of the General Plan."
While the notification from CalOES was welcome, Lawton stressed the participation of
County's Social Services and Public Works departments and residents in the clean-up and
mitigation efforts. "Mary Booher really stepped up to help," he said. "And (Supervisor) John
Peters dogged OES. He was relentless and raked the money loose from the State."