By Deb Murphy
The Judicial Council of California approved the selection of a parcel at the corner of Wye Road and U.S. Hwy. 6, identified as "the Joseph site" for the new Inyo County Courthouse at its Friday meeting in Sacramento.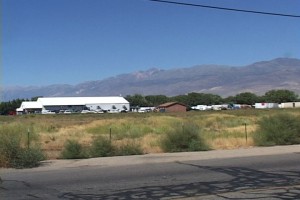 The site faces one more hurdle: negotiations with the site's owner which will also need approval by the State Public Works Board, according to Teresa Ruano, supervising communications specialist for the council. The facility will be built on one acre of the 5.47-acre parcel, just south of the Ford dealership.
The 21,000 square-foot structure will include a courtroom, hearing room, improved security features and space for a self-help center, jury assembly and deliberation rooms, clerk's area, a children's waiting room, family court mediation and attorney interview/witness waiting rooms. The total authorized project cost is $24,204,000.
County court facilities in Bishop City Hall and the Historic Independence Courthouse will "be vacated" according to the California Courts website. Court functions in Independence will eventually be moved to a "proposed new modular courthouse" adjacent to the County Jail south of town.
Since the passage of the Trial Court Facilities Act of 2002, responsibility for county courthouses moved from the counties to the State of California, specifically the Judicial Council. The list of issues connected with both current court facilites is long and renovation of facilities not owned by the State is not do-able. So, Indy gets a modular sometime after 2022, the tentative date for completion of the new facility.
As the center of the county's population, Bishop was selected as the location of the new courthouse nearly four years ago with the focus on city-owned land behind City Hall and Los Angeles Department of Water and Power land at the corner of Spruce and MacIver streets. According to the JC's staff analysis, both sites "were pursued but experienced difficulties in acquiring." LADWP withdrew the MacIver site and the City of Bishop site experienced "barriers that would delay project timelines by up to two years."
Cost breakdowns for the new courthouse include $696,000 for acquisition, $1,234,000 for preliminary drawings, $1,636,000 for working drawings and $19,885,000 for construction.
A Phase 1 Environmental Site Assessment turned up underground storage tanks on adjoining and nearby properties, noting impacts on shallow groundwater. The council will do a Phase II assessment to determine "whether or not these recognized environmental conditions are an issue," according to the staff analysis.