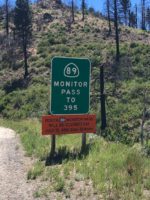 MONO COUNTY — Caltrans reopened State Route 89/Monitor Pass from its winter closure today at noon. The highway, the northernmost mountain pass in District 9 connecting Mono County to Ebbetts Pass and Alpine County, originally closed for the season on December 16, 2021. Crews removed snow and ice from the road, cleared debris, and made the necessary repairs to safely reopen the highway.
Monitor Pass is the first of Mono County's three mountain passes over the Sierra Nevada to open from its winter closure. It joins two other highways in Caltrans District 9 that reopened in March.
As of today, April 1, the following routes are open:
State Route 89/Monitor Pass
State Route 120 E/Mono Mills Road
State Route 158 N/North June Lake Loop
Caltrans' top goal is safety for the traveling public. Even though these roads are open, motorists should still be prepared for emergencies as weather and road conditions can change rapidly. Several highways remain in winter closure as maintenance crews continue to remove snow and debris from the road, including:
State Route 108/Sonora Pass
State Route 120 W at the Lee Vining Gate
State Route 270/Bodie Road
State Route 203 at Mammoth Mountain Inn
State Route 168 W at Aspendale Gate
Crestview Safety Roadside Rest Area
For the latest information on road conditions throughout District 9, follow us on Twitter (@Caltrans9) or Facebook (Caltrans District 9). Before you hit the road, plan your trip with the Caltrans QuickMap app or website at 
quickmap.dot.ca.gov
. You can also call the Road Condition Hotline at 1-800-427-ROAD (7623).
For those with sensory disabilities requiring alternate formats (i.e. Braille, large print, sign language interpreter, etc.) and those needing information in a language other than English, please contact Bob Gossman at 760-874-8332 or TTY 711.