News release
STATE ROUTE 168W (BISHOP CREEK)
BISHOP -The California Department of Transportation (Caltrans), Inyo County Public Works and Sheriff's Office, California Highway Patrol (CHP) and the U.S. Forest Service (USFS) would like to inform the public that SR 168W will be reopening this evening, July 27th, at 8:00 p.m.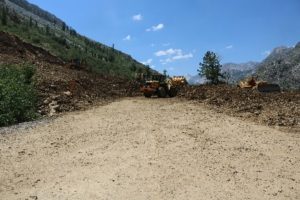 USFS will also be reopening the North Lake Campground and Sabrina Campgrounds.  Additionally, the Sabrina Lake and North Lake trailheads (Paiute Pass and Lamarck Lakes) are now open. The USFS will honor wilderness permits held for these trailheads starting tomorrow, July 28th, and will be issuing new permits (within the quota) as well.  Please call the Wilderness Permit Office at 760-873-2483 if you have questions.
The recreating public is reminded that 168W may close at any time due to future weather-related road issues. Please avoid stopping, parking, and/or walking in the slide area as the slide may still have some instability. Additional work will continue on this road, repairing culverts and stabilizing the slopes, which may cause short delays.
 Since the initial rockfall/mudslide last Sunday, July 22nd, Caltrans, Inyo County, and the CHP worked relentlessly to assist over 70 stranded vehicles and 150+ people beyond the slide at Sabrina and North Lake campgrounds. Each day, heavy equipment moved tons of material that included large rocks, some more than 10 tons. Beginning Monday, and each day after, the operators cleared a path to allow people an hour-long opportunity to evacuate the area. Some people hiked over the slide on Sunday night, many leaving the area and their vehicles and belongings behind.
Caltrans would like to thank Inyo County Public Works for their tireless assistance, bringing over bulldozers and personnel to assist Caltrans on the state route. Thank you also to CHP and the Inyo County Sheriff's office for their support with escorts, personnel and keeping the public informed and the USFS for working with the public to reschedule countless wilderness permits.
All agencies would like to thank the public for their patience during this process.
For the latest highway information please visit the Caltrans QuickMap site at quickmap.dot.ca.gov or call the Road Condition Hotline at 1-800-427-ROAD (7623).
5 Attachments