Caltrans press release
Bishop – Tuesday, Caltrans joined officials from Inyo, Mono and Kern counties and prime contractor Granite Construction to celebrate the completion of the first of three Freeman Gulch projects on State Route (SR) 14, which will eventually convert the existing two-lane roadway to a four-lane expressway upon full completion.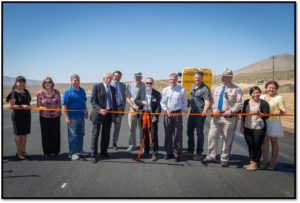 "This roadway is the principal access into the Inyo and Mono County recreation areas," said Caltrans Director Laurie Berman. "This project improves the safety, capacity and operation of this important route for the eastern Sierra region and its economy."
The four-mile project converted the existing two-lane highway into a four-lane divided highway from just north of SR 178/Isabella Walker Pass Road to just south of Indian Wells, near Ridgecrest.
"This is a critical project and one of the last four projects to complete the vision of a four-lane divided highway along the eastern Sierra corridor," said District 9 Director Brent Green. "This project improves this portion of SR 14 to ensure safe movement for travelers."
State Route 14 is a vital corridor for residents, shippers and recreational visitors.
The Freeman Gulch project is designed to increase the efficiency of the highway and will allow motorists to pass slower vehicles without having to use the oncoming lanes.
"The vision of a four-lane highway along the eastern Sierra corridor started with a project between Bishop and Mammoth Lakes in 1955," added Green.
The $28-million construction project was funded through an agreement between the Kern Council of Governments, the Inyo and Mono local transportation commissions and Caltrans.
The Freeman Gulch 4-Lane project is broken up into three segments and is a collaborative effort between Caltrans, Kern Council of Governments, Inyo County and Mono County. The entire project spans 16.4 miles of SR 14 to convert the remaining two-lane highway into a 4-lane expressway.
The next project to go to construction along the corridor is the Olancha-Cartago 4-Lane project on U.S. Highway 395. This project will go into construction in 2020.
Caltrans is able to build projects like this because of Senate Bill 1 (SB 1), the Road Repair and Accountability Act of 2017. SB 1 provides an ongoing funding increase of approximately $1.8 billion annually for the maintenance and rehabilitation of the state highway system. SB 1 funds will enable Caltrans to fix more than 17,000 lane miles of pavement, 500 bridges and 55,000 culverts by 2027.