Inyos two Superior Court Judges vowed to reconsider the plan to move a $30 million court building project from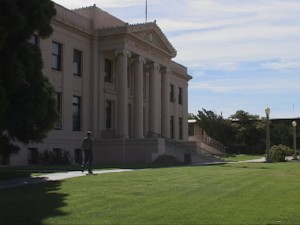 Independence to Bishop. Local news reporters pressed the State Administrative Office of the Courts for answers on this sudden revelation. Three weeks later, the AOC has posted internet answers to questions. The 6-pages of information say the State has not made up its mind, would consider renovation of the old courthouse building, but does want the new building near the most people. (Read the entire document: http://www.courtinfo.ca.gov/programs/occm/documents/inyo_faq.pdf
Teresa Ruano, communications person for the AOC, emailed what theyre calling frequently asked questions about the new court building. We dont know who answered the questions. The document says that the AOC officials are reviewing options. They say this includes possible improvements to the court-occupied space in the historic courthouse in Independence.
In fact, the information sheets say that the AOC and the court are actively investigating whether improvements to access and security can continue to make the Historic courthouse the center of court operations in Independence. This does not mean a full renovation.
But even as officials talk about what they might do in Independence, the document says clearly that the AOC favors locations where most of a countys people live. They also say that the AOC and our local judges reviewed the countywide population, funds for court facilities and potential for another big court building in the future and agreed on a new court facility in Northern Inyo. This was in early March. Even though they agreed on Bishop, officials insist that no final decision has been made.
The State makes it clear they will not join forces to share a new, big building in Bishop with Inyo County administration. They also will not split funds between Bishop and Independence.
Even though the State says no decision has been made, it sounds like it has. Officials say their primary focus is access to justice with sites that include ease of public access and adjacency to other current community services and features. They state that the court plans to provide adequate court space in each location that would be adequate for many years for the Inyo Superior Court caseload.
They also say the owners of the old K-Mart building declined the States offer to lease or buy it for court purposes.