By Deb Murphy
If the residents of West Bishop were hoping for the silver bullet to solve their high water table issues, they were disappointed. On the bright side, the report from the California Department of Water Resources arrived at the theories expressed by Inyo County's Water Department: seepage from the ditch system and residential ponds probably caused the high water table and subsequent seepage out of yards and into crawl spaces.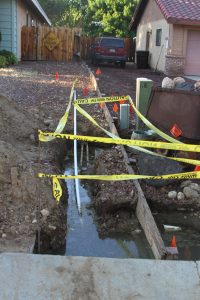 Department Director Bob Harrington used the County's drought emergency declarations to bring in hydrologists from the DWR last summer. The final 75-page report came in last month complete with charts on water table depth from monitoring wells and flow meters from Bishop Creek into the tributary ditches and then through the communities on either side of West Line Street.
Harrington developed his best guess on the high water table when the Los Angeles Department of Water and Power shut the water off to the ditch system through the winter of 2014-15. Some residents used the dry spell to clean out their ditches and ponds. When the spring irrigation season started and flows matched the Chandler Decree irrigation requirements, the water table shot up at an alarming rate.
Harrington's theory: The recharge of a depleted water table was the culprit.
The DWR report came to the same conclusion, offering data from the monitoring wells and flows gauges to back up that conclusion. While the report points out that conclusion is not completely proven by comparing data, Harrington said the lack of perfect correlation could be explained by the distance between surface water gauges and the problem areas. The report indicated spring and summer precipitation could be the reason for the discrepancies.
Unfortunately, the DWR report didn't have any solutions for residents, many of whom have already tackled the problem with pumps and diversion trenches.