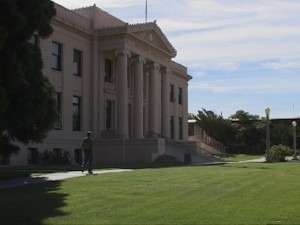 Inyo County Court Executive Officer Tammy Grimm reported to the Inyo Supervisors this week that state budget money problems have become Inyo's problems. She said that court construction funds have instead paid for operation of the courts due to budget shortfalls. Inyo's anticipated $30 million court building will likely not happen, and Ms. Grimm added that the State raided Inyo's locally held court funding that would have paid for a small facility in Independence.
The Inyo Supervisors have been inclined to support Inyo's court projects, but Ms. Grimm said that the Governor's final budget directed that "any court with money in bank accounts or savings must use it to help absorb $235 million of the State's deficit." This included $1.5 million that the Inyo Court saved to help build the Independence court facility next to the jail.
The executive court officer said she and the judges have fought against the loss of local funds and the loss of the larger project with letters and personal appearances before the Judicial Council. Judge Brian Lamb and Ms. Grimm will make a presentation before the Judicial Council Facilities working group on September 3 in support of the bond-funded $30 million project for Bishop.
Grimm had asked the Inyo Supervisors for a letter of support in this matter. Grimm acknowledged that many citizens were not pleased with the decision to place the new courthouse in Bishop, but she said the County needs new court facilities.
State legislators have taken the position that funds for operations trump spending money on new buildings.