State parks officials announced Friday that the budget deficit would cause closure of 70 state parks next year. Mono Lake Tufa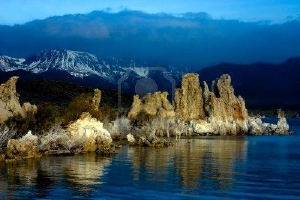 Reserve is on the list for cuts. Bodie State Park is not on the list. In January, Governor Brown issued a budget proposal that reduced spending on state parks by $11 million this fiscal year and $22 million next year, when the parks will start to shut down.
Director of the Mono Lake Committee, Geoff McQuilkin, said that the news of Mono Lake Tufa Reserve closure was "unexpected. We knew they were working on a list, but we saw no reason, according to their criteria, for closure." McQuilkin said there is almost no savings of dollars. The Reserve has a volunteer program and a partner foundation that funds a naturalist. The Forest Service owns the visitors center with no cost to the state.
McQuilkin said that a lot of people will be upset. He said there is still time for the Legislature to change the closure list. "For the Mono Lake Reserve," said McQuilkin, "the bottom line is there is no money to be saved so why cloe it?"
There are 278 state parks in California. 70 of them will start to close next July, including the Governor's mansion in Sacramento. These system-wide closures are a first and officials say they went through a rigorous process in identifying which parks should be on the list. Parks officials said that they would try to protect the most significant cultural and natural resources while maintaining the parks that provided the most public access and state revenue. The Parks Department will also seek partnership agreements with local governments and non-profits to try to keep some of the parks open. McQuilkin said that the Reserve meets criteria to remain open – a special natural protection category, a quarter of a million visitors per year and low dollars spent.
State Parks claims that 91% of total park attendance will remain and 94% of existing revenues even with closures. Changes are expected at state parks this year due to the mandated $11 million in reduced spending. Open hours will likely be reduced and maintenance postponed.