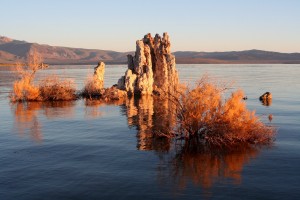 For many months, the Mono Lake Committee and a list of other supporters worked tirelessly to save the Mono Lake State Tufa Reserve from threatened State closure.  Now, the Associated Press has revealed that the director of California State Parks and other officials "sat on nearly $54 million in surplus money for years while parks were threatened with closure over budget cuts."
News reports said that this scandal came to light in the past two days.  The State Parks Director Ruth Coleman stepped down, and her deputy Michael Harris was fired. Coleman claimed she had no knowledge of the huge surplus.
Initially, State officials announced the impending closure of more than 70 parks, including the Mono Lake Tufa Reserve in Lee Vining.  Those interested in keeping all park facilities open, launched a massive letter-writing campaign and then came up with a plan to charge for parking. Suddenly last month, park officials announced that most of the 70 parks set for closure would remain open.
According to news reports, the State Parks and Recreation fund held $20.4 million more than reported, and the Off-Highway Vehicle fund held $33.5 million more than reported.  Officials called it an accounting error.
During efforts to save parks, details came out that many, if not most parks, actually make money or cost the State very little money.