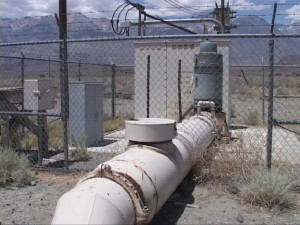 Even though the key groundwater management part of the Inyo-DWP Water Agreement, called the Green Book, does not work well to manage groundwater pumps, Inyo will apparently ask the State to consider the Long Term Water Agreement as its State-mandated groundwater management plan. Inyo Water Director Bob Harrington talked to the Supervisors Tuesday about pending water legislation in Sacramento and its effects here.
Harrington said some laws already exist that require a voluntary framework for local agencies to develop groundwater management plans. Harrington said the question for Inyo is how this applies to the Owens Valley and the Water Agreement. He said the Water Agreement has a lot of "technical components" of the current State-mandated groundwater plan process. Harrington did say Inyo is ahead of most areas of the State in terms of groundwater planning.
As for future groundwater management legislation, Harrington said the State wants to create sustainable groundwater management and use groundwater without negative impacts. Another goal is to recognize groundwater recharge as a beneficial use. The State would also provide technical assistance to implement groundwater management plans. Harrington said the core of the new groundwater legislation is to "empower local agencies to achieve sustainability." The role of the counties would be expanded in terms of groundwater legislation.
Inyo County gave up local groundwater control when officials signed the Long Term Water Agreement. Plus, the Agreement says Inyo and LA should refrain from supporting legislation that weakens or strengthens local authority over groundwater. Harrington said that clearly the new State legislation would give greater authority to counties over groundwater regulation. Harrington suggested developing a letter with LA to find out if the Water Agreement meets State legislative requirements.
In spite of disputes and water tables below baseline, Harrington said Inyo has a Water Agreement "that works and is 25 years old now." He said the Agreement should be recognized by the State "as a model of what they are trying to do." He will come back to the Supervisors next week with a draft letter to DWP. This letter may also address an upcoming Water Bond Measure forwarded by the Legislature.