For months, LADWP has politicked to use less water to keep dust down on the Owens Dry Lake. Some Inyo Supervisors have helped them, and so did Los Angeles Eyewitness News. Today, DWP politics ran smack into the brick wall of the State Lands Commission.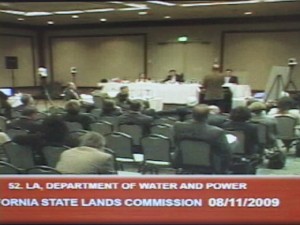 The Commission held a meeting at the Raddison Hotel in Los Angeles. DWP's wish for an amended lease for the Dry lake bed hit a snag when State Lands Commission staff objected to LA's environmental documents on a new way to manage dust. It's called moat and row.
State Lands staff stated that moat and row is experimental and that a supplemental environmental impact report on the new method erroneously eliminated other methods of dust control like vegetation and shallow flooding.
State Lands staff said DWP could do a new EIR on water supplies for the dry lake project. The staff told the Commission that there are many unanswered questions.
DWP, very short of water this year, wants to save water with the moat and row lines of dirt. This leaves questions about all of the wildlife that have grown around the new water at the Dry Lake and questions of public trust and visual impacts.
Some of the State Lands Commission grew angry at David Freeman, who was speaking for DWP. Threats of lawsuits were thrown around the room.
Reports indicated that Inyo Supervisor Linda Arcularius and members of the Inyo Cattlemen's Association were there to support DWP. DWP Manager David Nahai tried to calm the angry officials by pointing to DWP and Inyo on the same side of the issue.
More at the next meeting of the State Lands Commission