– Press release
Surveyors from the California Department of Public Health visited Northern Inyo Hospital (NIH) for a licensing survey on July 21-22. The hospital can now provide the following improvements for its patients.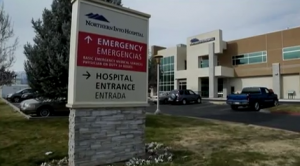 Swing Bed increase
The state granted NIH five additional Swing Beds, bringing its available total to 10. Medicare allows certain small rural hospitals to use its beds as needed, either for acute care or skilled care.
This allows physicians to "swing" patients from one level of care to another while staying within the same bed and same facility.
A good example of a Swing Bed stay is when someone undergoes joint replacement surgery. A Swing Bed allows patients to recover in a hospital setting versus a nursing home. In the hospital, patients have easy access to nursing care and rehabilitative services including physical, occupational and speech therapy. The goal of Swing Bed programs is to help patients becoming as independent as possible before discharge.
Swing Beds also allow patients to stay closer to family and friends, reducing stress from possibly being placed outside the community and eliminating high transportation costs. It also provides the patient with continuity of care since they will be working with the same nurses and therapists they had during their surgery or illness.
RHC Exam Rooms added, Women's Health added
The Rural Health Clinic's (RHC) Family Practice now has three additional exam rooms. The additional exam rooms are expected to ease patient flow and should reduce patient wait times at the RHC, which experiences about 24,000 patient visits per year.
In addition, women's health care services are now part of the RHC, housed in the adjacent building connected by a ramp/walkway. These services will include obstetrical care, well women exams and minor gynecological procedures. RHC Family Practice will continue to provide family practice/primary care, preventive care, chronic disease management and acute illness care.
Patients making appointments should call (760) 873-2602 for women's health or (760) 873-2849 for family practice.
Infusion Center to relocate
The new NIH Infusion Center will now occupy a much larger space within the older main hospital off Pioneer Lane.
What makes the new space unique is that it offers five individual exam rooms, enhancing privacy for patients. NIH nursing staff is working to make the new location a warmer, more welcoming place for patients to undergo treatment. The Infusion Center is expected to begin operations by early Fall.
Infusion Therapy is the intravenous administration of medication and is most often used when oral medications will not work. For many people chemotherapy for the treatment of cancer is the most familiar type of Infusion Therapy. Other types include intravenous antibiotics and therapeutic infusions such as iron replacement and infusions for bone health.
###
Northern Inyo Hospital is a 25-bed, not-for-profit Critical Access Hospital located in Bishop. Accredited by The Joint Commission, NIH has been providing health care to the Eastern Sierra since 1946.