The Office of Statewide Health Planning Development has demanded what some call "overkill" in the foundation of the new hospital building. This requirement caused a nearly $600,000 change order and many delays.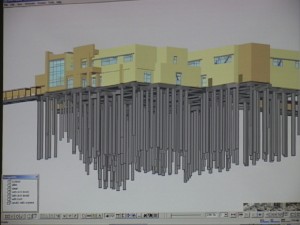 The Hospital Board met in a special session last week to approve a construction change order for $570,246. The change involves adapting the electrical conduit vaults around the massive foundation which includes 50 concrete piers that go down into the ground 52 feet. This state-required foundation will cost at least $4 million more than officials anticipated.
Hospital Administrator John Halfen said that Northern Inyo does have a permit in hand to start construction on the foundation. That work was expected to start today.
Meanwhile, the state has held up the permit for the main building, pending a few final details related to fire protection, Halfen said. He hopes the state will issue the main building permit before the end of the six weeks needed for foundation work.